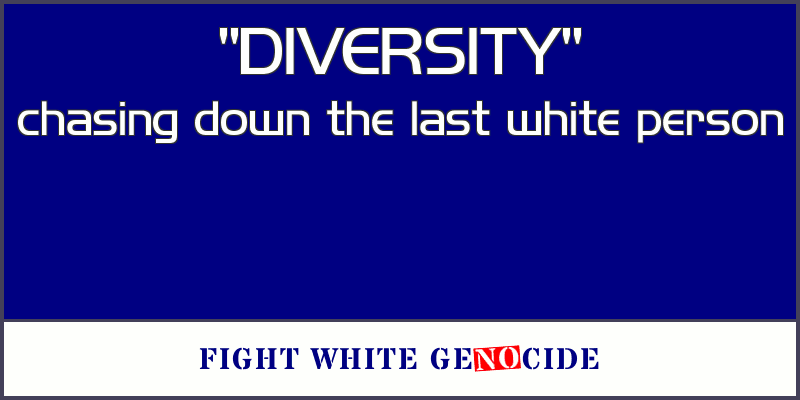 White genocide. If you were to say those two words, 99% of people would shake their heads in disgust and say that is another of the alt-right's disgusting and blatantly false dog whistles. And that is understandable. How can it be possible? White people hold the majority of power, dominate the wealthy and account for billions of the world's population.
Here is the definition of genocide: The deliberate killing of a large group of people, especially those of a particular nation or ethnic group.
We can all agree that white genocide is not literally happening (apart from South Africa, which is experiencing this as we speak), but when you hear the anti-white rhetoric from our elected officials, combined with immigration trends and the fact that many on the hard left want this to be a reality, it's not actually that far from the truth.
Many people say that diversity is a code word for 'less white people'. No longer are people chosen for jobs based on their experience and expertise. People who are considered minorities and from under-represented groups are often chosen ahead of white straight males. We have seen this from many organisations, including the BBC.
When our own Race Relations Commissioner Susan Devoy said in an interview that she agreed with Women's Minister Julie Ann Genter that old white men must move on, you know things aren't looking good. Prime Minister Jacinda Arden would also prefer to accept Manus Island illegal immigrants to this country over hardworking white South African farmers.
The countries listed below are not that different from New Zealand. Christianity is the main faith, they are majority white and all are economically successful. The mainstream media refuse to do their jobs and actually bring this to the public's attention as it doesn't fit their narrative. When they grudgingly do so, they like to make out that it isn't that bad. But, when you look at the facts, not made up fake news but cold hard facts and direct quotes from our world leaders, you should be concerned.
Canada
Justin Trudeau is on the record saying, "It's time to take action to ensure equal opportunity and treatment of black Canadians, including doing more to recruit and elect black members of Parliament."
Ahmed Hussen from Somalia is the new Minister of Immigration, Refugees and Citizenship for the Government of Canada.
In the next few decades over half of the immigrant population will be from Asian countries.
Immigration from Europe will halve, from about 30 per cent now to about 15 per cent.
Over a third of the working-age population, potentially as high as 40 per cent, will be visible minorities.
Across the country, the Muslim population is growing at a rate exceeding other religions. It is even growing faster than the number of Canadians identifying as having no religion.
Germany
Around 2.3 million people in Germany have family links to the Middle East, a rise of almost 51 percent since 2011, and around 740,000 people have African origins, an increase of 46 percent since 2011.
The number of people with an immigrant background in Germany rose 8.5 percent to a record 18.6 million in 2016, largely due to an increase in refugees.
Just over a fifth of the population – 22.5 percent – were first or second generation immigrants.
The prominent German architect Mr Reinig has said that in order to better integrate migrants, churches should be demolished and very "visible" mosques be built in their place. He said that in order to properly integrate people in a foreign country, migrants must "have no fear". This should be done, by building very "visible" mosques.
United States of America
The share of the US population that is white has declined over the past six decades from about 90 percent in 1950 to 61 percent in 2016 and will likely drop below 50 percent in another 30 years: what once was a majority will become a minority relatively soon, and has already become so in a few states.
White women have an average of 1.7 children over their lifetimes compared with Latina women averaging 2.2.
Minorities accounted for 92 percent of the US population growth between 2010 and 2016, with Latino being the largest growth.
The ageing white population, alongside a more youthful minority population, especially in the case of Latinos, will result in the US becoming a majority-minority country in about 2044.
Of the more than 43 million foreign-born persons living in the US in 2015, 82 percent originated in Latin America and Asia. Only 11 percent were born in Europe.
Why is it that white countries worldwide, and ONLY white countries, are being flooded with third-world non-whites? You don't see the likes of Japan or Korea accepting refugees. Why is that, I wonder? These are all fair questions, and instead of automatically yelling RACIST when somebody dares defend the white European race, it would be a nice change to have a discussion and debate about why this is happening and what we can do about it, without people's heads exploding.
https://www.whaleoil.co.nz/2018/04/white-genocide-its-real-and-on-the-way-to-new-zealand/
Tags: anti-White, diversity, immigration, Susan Devoy, white genocide